Categories
Introducing the beatXP Marv Neo Smartwatch
Posted on July 3rd, 2023 08:56 PM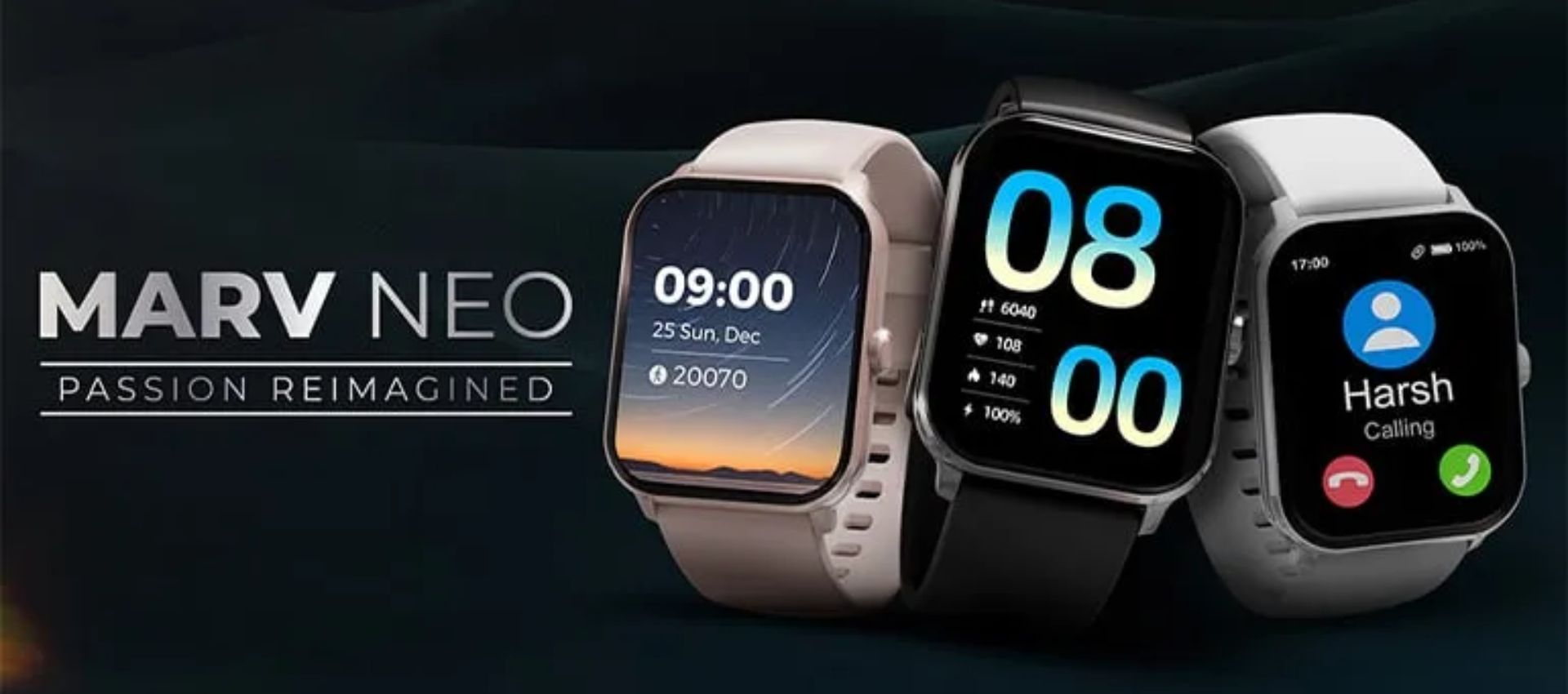 Modern Style and Elegance
The beatXP Marv Neo Smartwatch combines style and functionality in a sleek and modern design. With its 1.85" HD display, this smartwatch shines bright, exuding elegance and brilliance. The watch features a peak brightness of 560 nits, ensuring more detail and extra clarity. Marv Neo is a fine, classic smartwatch that makes a bold style statement.
Long Battery Life and Fast Charging
You can rely on the beatXP Marv Neo to run uninterrupted for at least 7 days on a single charge, even without heavy usage. If you use Bluetooth calling, the watch will still last for about 2 days. When it's time to recharge, the Marv Neo smartwatch only requires 2 hours to be fully charged. Simply use a 3.7V to 5V adapter and ensure you charge your smartwatch for at least 30-40 minutes to get at least 20% charge.
AI Voice Assistance
Experience innovation at its best with the beatXP Marv Neo Smartwatch. It comes equipped with an AI voice assistant, allowing you to speak to your smartwatch and execute tasks at your command. Whether it's making a phone call, setting an alarm, or sending a text, Marv Neo is capable of executing tasks for you with ease.
Bluetooth Calling
Stay connected on the go with the beatXP Marv Neo Smartwatch. It features the latest enhanced Bluetooth setup, enabling you to handle calls directly from your wrist without waking your phone. The watch is equipped with an in-built speaker and microphone, providing you with the best calling experience wherever you are.
Advanced Features and Specifications
Product Dimensions: 4.41 x 3.73 x 1.08 cm; 23.1 grams
Operating System: Smartwatch
Resolution: 240 x 240
Compatible Devices: Smartphone
Special Features: Breath Monitor, Blood Pressure Monitor, Activity Tracker, Camera, Calorie Tracker
Display Technology: LCD
Standing Screen Display Size: 1.85 Inches
Display Type: LED
Battery Average Life: 7 Days
Wireless Type: Bluetooth
Connector Type: USB
Device Interface - Primary: Touchscreen
Manufacturer: beatXP
Country of Origin: China
Item Weight: 23.1 grams
Item Dimensions - LxWxH: 44 x 37 x 11 millimeters
Net Quantity: 1 Count
Conclusion
The beatXP Marv Neo Smartwatch combines style, functionality, and advanced features to provide you with a superior smartwatch experience. With its elegant design, long battery life, AI voice assistance, and Bluetooth calling capabilities, this smartwatch is a perfect companion for your everyday life. Stay connected and stylish with the beatXP Marv Neo Smartwatch.